Get in touch
We are global suppliers and wholesalers of commercial canvas Bell Tents, lodges and safari style accommodation. Let us know what you need below.
The game changer
BTV- 4
Our most impressive model yet!
Pitch within 25 minutes from start to finish.
More space, more comfort at unbeatable prices.
See now
Customer Reviews
Ibn B.
United States
Phil .
United Kingdom
07/15/2020
Good product
Good quality
Debbie B.
United Kingdom
07/01/2020
Excellent customer service
I recently purchased Coir Matting from Bell Tent Village, and I received superb customer service. Lee was particularly helpful in getting this item delivered to me quickly as I was in much need of it. He kept in touch throughout until I received the delivery! I was really impressed and I will without doubt use this company again.
James T.
United Kingdom
06/23/2020
Happy customer despite poor delivery experience
Purchased 7m full moon coir matting. Best web price & fast delivery. However when delivered by DHL, matting wrapping very poor with many rips and minor scuff damage hence 4 stars. Contacted Lee at BTV who was superb in accepting responsibility and resolving our concerns. His customer care skills were excellent. Will purchase from again. Highly Recommended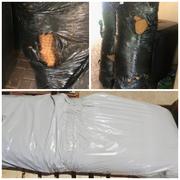 07/01/2020
BellTentVillage
Thank you James, we have now improved the quality of our wrapping for large coir mats ordered through our store thanks to your feedback. 5* customer.
Customer Reviews
Janice F.
United Kingdom
07/01/2019
Gorgeous and lots of space
Haven't used it as yet for a camping trip but set it up in the back garden to get an idea of it. Feels very well made and sturdy, it looks gorgeous too. In all I am very happy with my purchase.
Customer Reviews
Chris B.
United Kingdom
05/21/2020
Fantastic
We've had a 4m Soul Pad (SP) bell tent for around 7 years, camping in France and at festivals, spreading the cost over use it's now at less than 30p a night; it's been well used. Now that the kids have left home, we've started to take longer holidays and really wanted more space, as well as ducking in and out of the tent was causing backaches. After some discussions with Lee at Bell Tent Village about door heights he recommended the 5m XL. It arrived yesterday and we took it to the local rec to put up. The first thing that struck us, is that it is heavy, really heavy, at 33kg, the SP was 10kg lighter. It arrived in a canvas bag, a bag for the poles, and a peg bag with pegs and a mallet. The pegs are really tough, I don't think we're going to be bending any of these soon. Opening it up, the construction, finish and attention to detail of the XL is way beyond the SP. The canvas is much heavier, and all the seams are taped, in the SP most were left rough cut and of variable size. There are loops and duffle coat style pegs for all the doors and windows, whereas in the SP some were missing and others were double sewn into the seam. Putting it up is straightforward, a one person job in about 15 mins. Once up, the XL is palatial. Whereas in our SP the bed just fitted between the centre pole and the wall, in the XL I can hardly touch them with my arms stretched. The best bit for us is that door is over 6 foot high making it easy to get through without bending. Looking forward to the holidays.
Customer Reviews
John F.
United Kingdom
08/03/2020
Cotton canvas waterproofing
Application is very easy. I used it to re-proof my swag ( Australian bivvy bag) , a canvas rucksack and a pair of over trousers. Half a bottle did these items.
Customer Reviews
06/20/2019
Bell Tent
Although my tent was delayed Bell Tent Village kindly upgraded my tent and other items free of charge as well as special delivery. Communicates fast. Very happy with my tent and the quality is 10/10